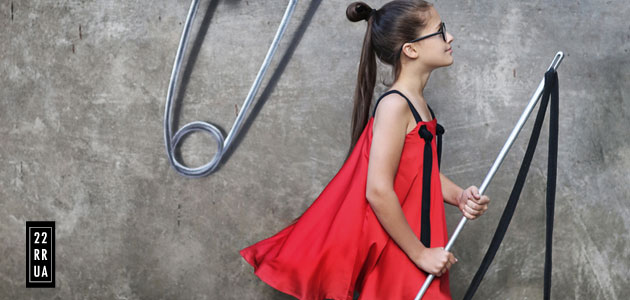 Rhubarb Republik proudly presents the new 2RU2RA SS18 collection "KIDS WITH AN ATTITUDE"
2RU2RA, a much-loved brand from Lithuania, continues its progressive and witty tradition in yet another collection for kids. Known for its printed anatomical and animalistic designs, this time 2RU2RA comes back with a dose of minimalism, colored in black, white and red and featuring totally unexpected details. These include enormous shoe laces that pierce the designs and pentagon-shaped holes that uncover parts of the body – both being an obvious evidence that 2RU2RA styles are meant for kids with a modern attitude.
The fourth collection for kids from a designers' trio has a straight-forward title "No print" and includes classical athletic leisure pieces in modern finishing – a cropped jacket worn on a minimalist plain dress or a hood with sleeves complimenting straight denim trousers. The base of this FW2017-18 collection features comfortable must-haves such as sweat dresses, sweat shirts, shorts and T-shirts, all mainly produced of quality cotton, viscose and wool, with a necessary addition of elastane and polyester.
Widely known in the Baltics and Russia, 2RU2RA line for kids is now making its way into the new markets that fancy progressive, yet practical styles, created in a distinguished style with a healthy portion on Nordic humor.
If you have any further interest or questions please get in touch by e-mail at info@rhubarbrepublik.com and we will gladly assist.