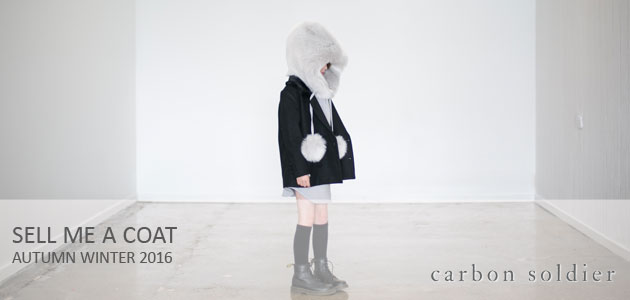 Carbon Soldier who hail from Auckland, New Zealand present their AW16 collection Sell Me A Coat.
Sell Me A Coat is a song by David Bowie from 1967. We along with the world, were shocked at his passing just as were putting together the final touches, as he was partly the influence behind this collection.
The printed styles are in ivory and black or black and gold, in premium quality cotton elastane knits mix in well with the woven styles in mustard, grey and pink featuring pointed collars and pom-poms.
Knitwear in matching colours including hats and scarves, with pieces in faux fur that are barely distinguishable from the real thing and wool blend blazers make for unlimited outfit combinations.
The collection covers from newborn to 8-9yrs and will be available July/August 2016.
For more information please get in touch by e-mail to info@rhubarbrepublik.com