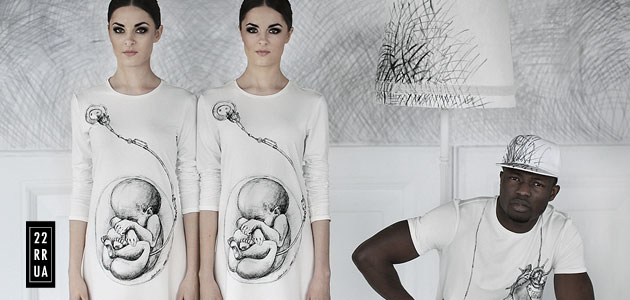 2RU2RA – a conceptual fashion brand that treats clothing as an empty sheet to draw their ideas on. 2RU2RA communicates to same-minded individuals through drawings by encoding messages with symbols, ideas or scripts in their designs. Known for its specific pencil drawings transfered on fabrics by silkography 2RU2RA embodies more then clothing – it is a full lifestyle philosophy.
Launched in 2014 conceptual fashion brand 2RU2RA was quickly acknowledged in Lithuania. It is an emerging brand designed and created by a team of three: Olga Filatova Kontrimienė / Miglė Janušaitė / Airida Skrickienė.
About the new AW17 collections:
ANATOMIC – Inspired by anatomy, surrealism and mechanics ANATOMIC collection shows the imaginable beneath parts of our body while revealing them on the surface by placing on fabrics. Collection contains variety of conceptual drawings. To stay unnoticed wearing these is a challenge.
INK ON SKIN – Thinking Inking? Lots of tattoos & symbols – as always drawn by the pencil – lays on the fabrics. While birds fly on your chest, octopus wraps around your arm and bugs crawl on you back you can also find yourself drowned into encoding scripts inside the tattoos as each drawing has a message of its own. Together they create a chain of symbols for interpretation.
For more information please contact us by e-mail at info@rhubarbrepublik.com