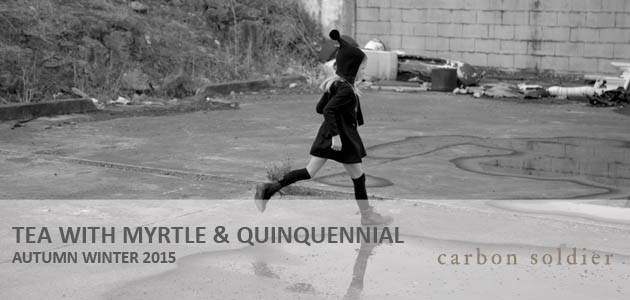 Carbon Soldier hailing from Auckland, New Zealand present their new AW15 collections Tea With Myrtle and Quinquennial.
Tea With Myrtle is one for the girls, featuring a hand drawn tea cup that once belonged to the designer's Great Aunt Myrtle. Dresses and separates come in  delicate peachy pink and black, or black with gold in the softest cotton knit with a touch of  elastane for comfort. Anchoring the pieces are a knitted cardigan and hat in black, and the most luscious two tone faux fur coat in marshmallow.
Quinquennial was inspired by another aunt's painting of her champion race horse, and childhood pony club adventures. In mainly shades of beige, black and gold, the separates combine beautifully together to create unlimited outfits.  Quality cottons, French Terry and wool blends, feature whimsical  horse ears and fringe manes.  Tiny horses line a caramel faux fur coat that looks good enough to eat.
The collections cover from newborn to 8-9yrs and will be available from August 2015.
For more details please send us an e-mail to info@rhubarbrepublik.com