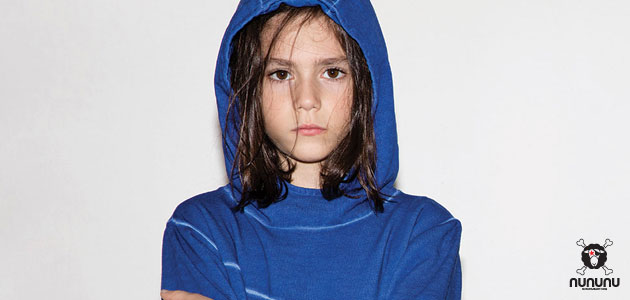 Nununu FW2017 is finally here and we are extremly happy to present you with one of our largest collections yet! The new collection consists of a blend of our all time favorite prints, cuts and basic styles as well as new interpertations to some of our best sellers and of course new inovative cuts and designs. NUNUNU continues to develop their NewBorn category and are happy to announce that they have broadned their outerwear range as well as moving forward with their early drop back to school collection.
THE COLLECTION
Prints:
This seasons theme is vision and site… They have turned to their ongoing flirt with the human body and have adopted the eyes as their leading print alongside vision test boards as their graphic motive strengthened by numbers who naturally complete the set.

Colors:
The basic four – black, white, heather grey and charcoal lead the way of the collection with a touch of powder pink for many styles and prints. BUT! Their main tone and leading winter color is the new Dirty Blue which continues their journey with dyed shades. The new blue is a deep indigo-ish kind of tone inspired from industrial work clothes.

They would like to remind you that due to the fact that their dye technique is quite unique, each dirty blue item will not look the same as the other nor will it have the same color shade in many cases, a fact that gives each item an almost "one-of-a kind" flare.

Cuts & Material choice:
Soft cottons, thick french terry, thin nylon, handmade knits and edgy leather pieces make up the winter collection… these choices of material developed new dress, pant and sweatshirt styles – many of which have a more abstract and graphic shape and other styles have taken a turn into softer and flowy cuts.

Accessories:
Make sure to check out their new water proof backpack, available in 2 sizes completed with an extra cool attachment in the form of a fold in hoodie, zipped inside the bag itself. The hoodie is perfect for a surprise rainy day and is offered with 2 sets of branded nununu pins.
Along with their on-going collaboration with Collégien with whom they have created new all over eye print, number print and ½ & ½ black/powder pink slippers with, they continue with their underwear and sock ranges available this season with either the eye or number prints.
BACK TO SCHOOL is back…
Seeing that the latest BTS was received so well, NUNUNU will continue with this drop and it has now become an official part of their FW collections.
The BTS drop will be available at the end of June and will offer about 28 styles. Naturally, all items in this section can be ordered in all their color variations and will be available in our second drop as well.