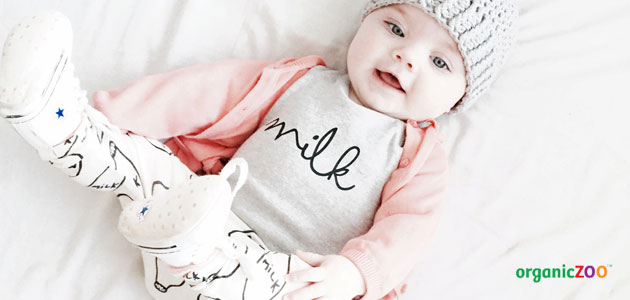 Forget blue and pink……….going green is in!
We all know that babies' skin is far more sensitive than adults and we also know that finding great organic baby clothes can be a challenge! OrganicZOO is a British fashion brand that is a perfect addition to a new baby's wardrobe.
This young company proposes a very unusual concept to all little fashionistas. Their tiny clothes, created only from 100% organic cotton, are super soft and entirely made in Europe. The colours picked for this season include signature marl grey, ivory and classic Breton stripes. Playful and stimulating graphics are bound to put a smile on anyone's face. This adorable capsule range reflects the contemporary spirit of the brand.
"OrganicZOO is all about big dreams and little pleasures."
Paulina Krzywosinska, Managing Director, OrganicZOO
The OrganicZOO collection includes sweatshirts, playsuits, leggings and hats. Sizes range from new born to 3 years. Deliveries start in October 2015.
This season the brand, for the first time, introduces a range of monochrome baby room prints.
Made for small people with BIG personalities.
For more information please contact us by e-mail at info@rhubarbrepublik.com