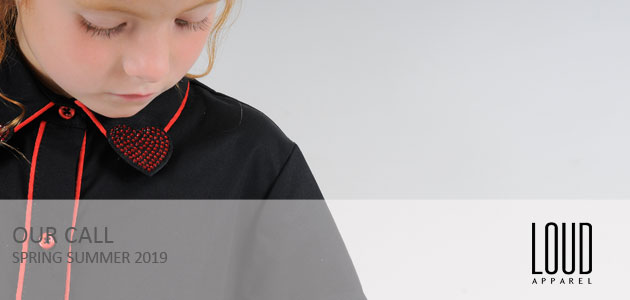 OUR CALL, the new SS19 collection presented by LOUD Apparel is an honour to all the children, tomorrow's generation, and their willingness to voice their own opinion. Today's children hoping for a better future, a world with no guns or wars, a world of love, unity regardless of race, religion, sexuality, ability or gender, a world of kindness.
With this statement the collection is set into the environment of a Customer Service Team where kindness, politeness and respect are of main relevance and importance. Bold graphics, positive messages, telephones prints, quirky and fun elements are at the core of the collection.
This season's line up follows the iconic characteristic of the brand, with black and white monochromes, a hint of racing red, royal blue, a pigment dye effect and a selection of denim pieces all shaped and designed with fun and exciting details.
The collection offers a wide selection of girls, unisex, baby and accessories pieces in organic materials: comfortable French Terry for jumpers and tracksuit bottoms; soft cotton jersey for t-shirts; leggings and dresses; outerwear denim jackets, shorts and overall with cool and joyful embroidery details.
New to this season is a mini capsule collection of womenswear, a selection of dresses and skirt to twin with the girls styles and create the "Mini Me" look.
Also new this season is a capsule of layette newborn styles. The new brand, "Piccolo" by LOUD Apparel is an array of basic clothing that ranges from 1 month to 18months. Soft and organic fabrics are used for onesies, t-shirts, foot leggings, beanies hat and bibs all translated in the brand's conceptual vision to evoke its uniqueness for those audacious, super stylish among you.
For more details on how to become a Loud Apparel retailer, get in touch by e-mail.
info@rhubarbrepublik.com