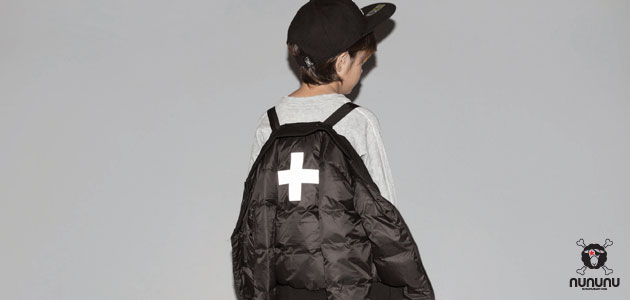 Happy to introduce the kick off for the new campaign with NUNUNU and their new FW18 collection, Exploring Languages.
NUNUNU is happy to announce that they have continued their collaboration with artist Shay Id Alony and have developed an all new print with him. Moving into their second season of collaboration with artist Shay Id Alony was a natural continuity for both sides. The symbiotic creative process between Shay, Iris & Tali has turned into a great partnership that has already lead to a mutual design of their first ever pop up store in Taiwan which later turned to an official NUNUNU store in Taipei, a pop up store in Tel Aviv and many more projects to come!
The accessory category has expanded with an amazing diaper bag, new rain boots, umbrella, lunch boxes and more! but mostly, they are thrilled to announce that half of their new holiday collection is the outcome of an exciting new collaboration between NUNUNU and the beautiful Australian brand TUTU DE MONDE!
THIS SEASONS THEME:
This seasons' theme continues nununu's journey of exploring languages of all types. For FW18, they turn to basic ancient symbolic tribal languages which perfectly reflect nununu's basic, clean graphic world and Shay's on going inspiration coming from tribal art, particularly masks.
FW18's graphic prints consist of pyramids (triangles), circles and mainly stripes which were used by ancient cultures as handwritings and forms of communications.
The new robot skull mask continues our quest and is the perfect combination between their natural infatuation with skulls, Shay's exploring process of ancient tribal masks and a twist of an alien/robot kind of style which gives the new member of their tribe a futuristic vibe. Stars, skulls and our friend the "control freak" are back to finish the job.
COLORS:
Yes, winter is coming but that doesn't mean NUNUNU will surrender to the chill and this may just be their most colorful season yet! Meet SAND STORM – a new stone colored wash inspired by their geometric pyramid patches and tribal prints because what can compliment them more than a splash of sand with a touch of dusty yellow and olive to complete the feel? Of course, a nununu collection cannot be complete without blacks, whites, greys and powder pink.
And like always – NUNUNU would like to remind you that due to the fact that their dye technique is quite unique, each dyed item will not look the same as the other nor will it have the same color shade in many cases, a fact that gives each item an almost "one-of-a kind" flare.
NEW ACCESSORIES!!!
Coming this winter, NUNUNU has broadened their accessory range and added great new surprises! The new diaper bag, rain boots, star umbrella, lunch boxes, nununu water bottle and dolls are just a part of the list from this category.
MORE OPTIONS!
Like each season NUNUNU strive's to expand their categories – they have now added new styles and vests to the outerwear segment, new dress and sweatshirt cuts to widen your choice and more sizing options for our NB & Baby category. Make sure to check these out and look out for new T-shirt styles and skirts as well.
THE ADDITIONAL DROPS FOR THE SEASON:
HOLIDAY: NUNUNU is thrilled to introduce our new holiday collection which is part their own designs and another part, the outcome of their new collaboration with Australian based TUTU DE MONDE! The collaboration consists of beautiful styles which are the outcome of two completely differently DNA'ed brands that came together as one! Alongside their tutu collaboration, NUNUNU introduces an extension to the holiday range with their line of tops and pants all unisex.
BACK TO SCHOOL: the back to school drop will launch beginning of July and will offer a broader range of styles than past seasons. The back to school category has numerous accessory options like two new backpacks, a branded stationery set, lunch boxes and water bottle.
*** All styles in this drop will be available in the FW18 complete drop.
ORDER TIME: The collection will be open and online starting Thursday, January 4th, 2018
DEADLINE: End of day Thursday, March 8th, 2018
OFFICIAL LAUNCH DATES FW18:
BACK TO SCHOOL LAUNCH: Monday, July 9th, 2018
FW18 LAUNCH: Monday, August 20th, 2018
HOLIDAY LAUNCH: Monday, October 1st, 2018
For more information please get in touch via e-mail at info@rhubarbrepublik.com