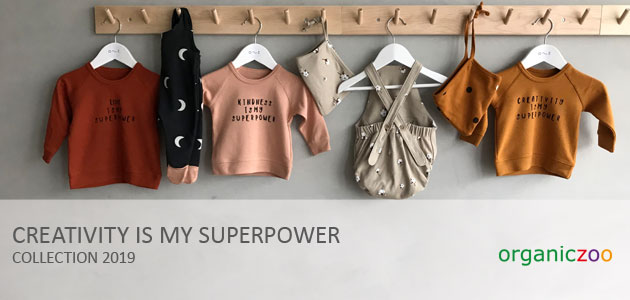 Organic Zoo, the British brand known for organic, sustainable made and gender- neutral baby wear, is launching a new collection for 2019 called "Creativity is my Superpower."
The inspiration behind the collection is a reflection on beauty and how it is understood in today's modern world. The brand launches 3 signature theme sweatshirts to manifest their interpretation of beauty and contentment. Additionally collection introduces a few new prints, styles and beautiful earthy colour palette.
Organic Zoo, which places fair trade at the heart of its business, has also re-designed its branding. A playful yet timeless new logo reflects how the label has evolved and portrays its love of simple, high quality design. New swing tags made from luxury yet certified sustainable paper are produced locally and will be rolled out in June. This branding refresh coincides with a re-launched new website, offering an enhanced shopping experience.
Founded in 2010, organic zoo is a spirited British brand that marries covetable design with a commitment to fair trade and the environment. It prides itself on manufacturing its collections in Europe using only 100% organic cotton and toxic-free, OEKO-TEX®
Standard 100 certified dyes. The label's signature minimalist style is non-seasonal and ideal for dressing newborn boys and girls alike, as well as for handing down. The brand's ethical conscience also extends to its packaging, favouring plain mailing bags made from recycled sources over unnecessary tissue, card and paper to wrap its goods.
For more information on how to become an OrganicZoo retailer please get in touch by e-mail to info@rhubarbrepublik.com