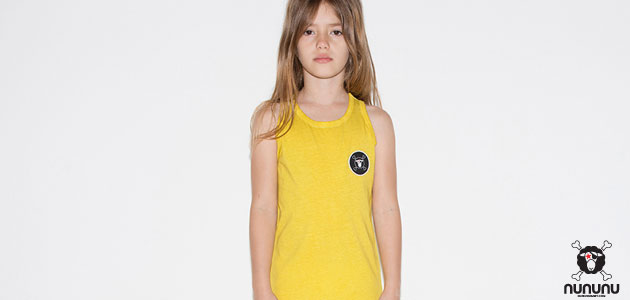 Just like every season we are thrilled to present you with Nununu's new SS2017 collection! We are even more excited about this as we feel that this collection has taken us one step forward with new editions and categories such as the New Born category as well as our new Resort collection ready to drop in-store mid of November (please see attached separate docs. For each one).
THE COLLECTION
Prints: Our SS collection is all about color! BUT hang on! Since we are Nununu, when we say color we don't mean colorful but rather a collection that is based on coloring techniques like splashes, paint brush strokes and hand prints dipped in paint for an extra kind of twist! We continue with our skulls and stars and even gave "BLACKSHEEP" a small comeback as a print.
Colors: Black, white, heather grey and Charcoal set the pace with an added powdered pink for many styles and prints. We continue our journey with dyed colors with our dyed grey and introduce Dusty Yellow as our leading summer color. This yellow symbolizes the season to us in so many ways and due to the fact that its dye technique is so unique, each yellow item will not look exactly the same as the other. a fact that gives each item an almost "one-of-a kind" flare.
Cuts & Material choice: Living in such warm climates like we do, we've given extra notice to these seasons' cuts and have "lighten" things up with extremely thin & featherweight styles that will hopefully ease the hot summer days. A lot of the styles are made from extra thin material with raw light edges that feel as if they are floating on the body rather than worn. As usual, we've chosen the best materials in the market to produce this collection – soft cottons, special nupi, light denims, thin voile and muslins have created a light and summery look.
Accessories: Along with our on-going collaboration with Collégien with whom we've created beautiful splash slippers with, we continue with our underwear and sock ranges all available this season with the splash print. Make sure to check out the new beanie hats that will accommodate our older customers and will range up to size 14Y making them an extra cool edition to every outfit.
SILK: The collection will be open and on-line starting July 4, 2016
DEADLINE:  End of day Thursday, August 31, 2016
For more information please contact us by e-mail at info@rhubarbrepublik.com