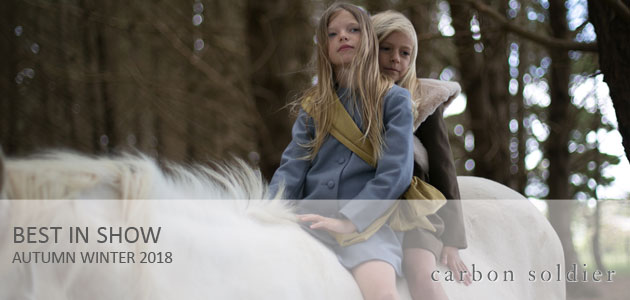 Rosettes, sashes and ribbons weave their way throughout Carbon Soldier's latest collection 'Best in Show'.

A nod to awards, whether they be equestrian inspired, as seen in the whimsical separates, or simply to bestow upon your own tiny recipient. Black, brown, olive and wedgwood combine in classic cuts with creative detailing, and rich textures in luscious faux fur, velvets and wool. Combine with separates in the designer's hand drawn prints or solid pieces in added shades of beige, rust and white.

Established in 2002 in Auckland, New Zealand, Carbon Soldier is well loved at home for it's subtle palettes and lasting quality and can now be found across the globe as they continue their expansion into the Northern Hemisphere.
For more information please contact us by e-mail at info@rhubarbrepublik.com