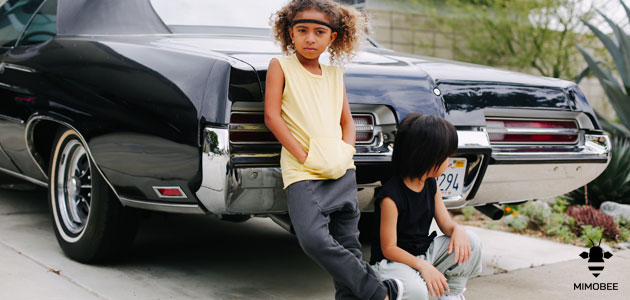 Kicking off its SS16 Collection, Mimobee looks back for a little inspiration for the 21st century kid! The SS16 RETRO MODERN Collection has a little bit of everything to make both kids and parents happy!
As always, Mimobee uses the softest jerseys and fleeces with a great finish so that kids always love wearing it. Adding to our signature raw hems and asymmetrical cuts, this season we introduce a splash of nostalgia in our color palette. Mimobee's latest pieces will definitely bring a smile to parents' faces. With light yellow, a soft cocoa brown, a pop of coral, a bright opal, calming neutral sage, and a vintage black/charcoal, the designs and colors blend perfectly to bring a little retro to the modern kid. Building on its empowering FW15 collection, Mimobee's latest collection is a fond look back with a modern eye for interpreting it and making it look cool for today.
Some highlights for this season are the Fly Long Hoodie, with 5-thread topstitching for a strong design effect and three snaps to keep them kids bundled up; the Dakota Riding Pants with tight ribbed legging around the calf, combines with a loose billow for comfort and style; our Bubble Bubble Pleat Skirt, with pleat accents around the waist for a refined look; and Mimobee's Rockit Pkt Romper—with a big half pocket starting in the front and curving leftwards to the back. Definitely a style statement—and good for stashing little toys and whatnots kids will always find.
To see Mimobee's SS16 Collection, please contact Rhubarb Republik at www.rhubarbrepublik.com, or at info@rhubarbrepublik.com.