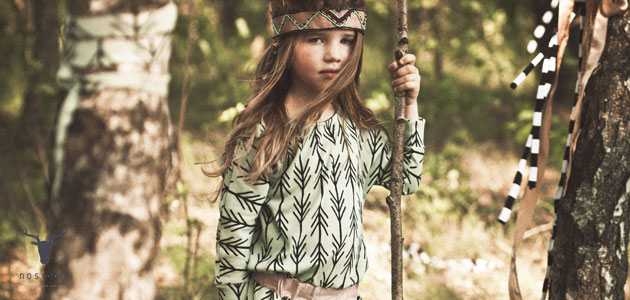 Rhubarb Republik proudly presents the new Autumn Winter collection from no sweet. The new collection is "born to be wild" and is for those who are able to creep noiselessly through wild forests and intently observe the nature. Putting up tepees and constructing bows during the days in the woods is definitely the greatest adventure for the kids and parents who can feel Native American tunes in their hearts and whom the time spent well away from civilization enables to fulfill the yearnings for living in harmony with nature.
The latest collection with the images of totem, arrow, glow-worms and the bear with an electric guitar combines motifs reminding of American Indian stories with a breath of modernity.
The cuts and lengths of the clothing are diversified, their colours being subdued, which enables to arrange the clothes in any combination. The latest collection also contains lots of smooth knits, and that matches up perfectly with patterned clothes.
The cotton of which the clothes are made is 100% organic and guarantees the quality of internationally certified Global Organic Textile Standard (GOTS). Both the fabric and dyes which we use for colouring and making prints are devoid of harmful substances.
For more information please get in touch by e-mail at info@rhubarbrepublik.com