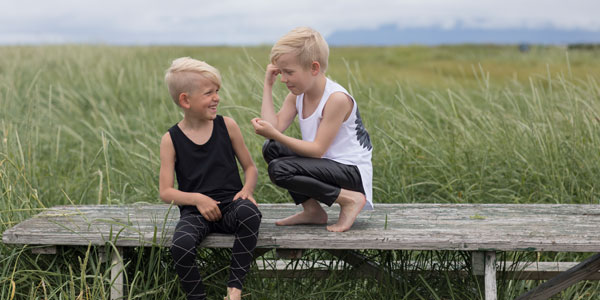 Mói just launched their SS 2018 collection called "Observation from Above"
The dark, mysterious Raven has been vastly depicted in literature throughout the ages. In some parts of the world the Raven's presence indicates good fortune. The Raven is believed to have a strong sense of glimmering colors when observing from above. The new collection emphasizes on those attributes mixing shiny silver, gold and leather whilst indulging the Raven's extremely versatile and opportunistic way of finding sources of nutrition in the nature.
The new collection adds new styles, new prints and new colors, which as before, are sought from the Raven's presence in nature including their wings, feathers, their nests and marbles'. For the first time mói will present their Black Feathered Swimwear styles with one item for girls and one item for boys. Guest appearance for this season includes the Owl pajamas, the Black Swan T-shirt and the ever-popular glacier prints on few selected styles.
Mói is an urban children's fashion brand originating from Scandinavia. Mói's primary focus is creating stylish and funky clothes for children with a dash of attitude to inspire sustainable living, being free and of full of desire to make the earth a better place. This is done through certified production methods, which are responsible, ethical and organic.
The urban designs feature comfortable garments that can be used by both genders between 0–12 years of age. The classic designs blended with in-style basics are easy to mix and match and wear with comfort on all occasions whether being über cool, playing or partying.
For more information, please contact us by e-mail at info@rhubarbrepublik.com