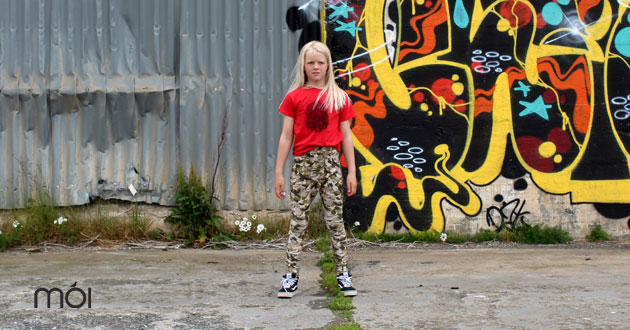 In psychology, identity is the qualities, beliefs, personality, looks or expressions that make a person. For the Spring Summer 2020 mói has launched a new collection that celebrates the idea that children are free to be who they are and are free to create their own identity.
The new Spring Summer 2020 collection embraces the brands strong links to the structure of the core element of unisex clothing. This is one of the brands DNA and while not compromising in any sense of the idea, new prints have been added to further support the ideology. Prints such as XY, faces and fingerprints are now the mainstream styles yet supported by camouflage and stars to give a sense to the notion of someone who wants to be a superstar or in the hiding just a little longer.
Establish in 2012, Mói is an urban children's fashion brand originating from Iceland. Mói's primary focus is creating stylish and funky clothes for children with a dash of attitude to inspire sustainable living, being free and of full of desire to make the earth a better place. This is done through certified production methods, which are responsible, ethical and organic.
The urban designs feature comfortable garments that can be used by both genders between 0–12 years of age. The classic designs blended with in-style basics are easy to mix and match and wear with comfort on all occasions whether being über cool, playing or partying.
Preorder Deadline: September 10th 2019.
Delivery Period: February 2020.
Launch Date: Estimated February 15th 2020.
For more information, please contact us by e-mail at info@rhubarbrepublik.com