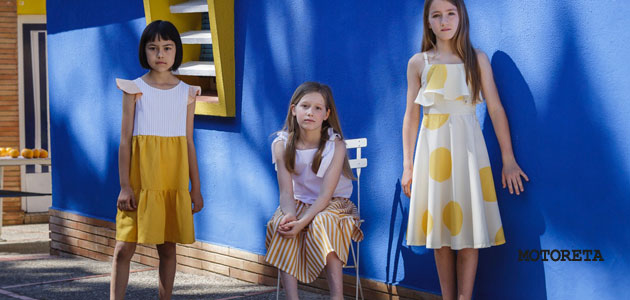 Barefooted
excited
toes wiggling
rubbing sand grains
the warm breeze
the sand prickles up my legs
walking…awkwardly
the rolling sand
broken and made
by my steps
fresh salt air
everywhere
running, unabashedly
sprinting shouting
jumping
splashing
and i'm in
the light reflecting
a broken mirror
of water twinkling
brighter than starlight
all around me
squinting
half blind half bright
i edge in further
testing the water around
my neck the gentle waves
wave wave big wave
my closed eyes
the taste of salt
spittle pleh bleh
a wet blanket of hair
the turn of my head
the receding of the waves
the sparkle of a stone
the shine of a shell
the glimmer of silver
these are my treasures
these are my moments
these will remind me
these are my summer
beach.
From early 2013 MOTORETA creates a lifestyle for kids and babies with an urban, and sophisticated meaning. A delicate and personal brand based and produced in the south of Spain. Created by the architects Cristina López-Lago and Maria Llerena, this is an example of how a unique designer brand can go together with an international market, best quality and a global distribution. MOTORETA is now present in more than one hundred and fifty points of sale, high end boutiques and department stores in twenty two countries all over the world. Their collections have been featured in best international magazines such as Milk Magazine, Papier Mache, Vogue, Collezioni Bambini or Elle Magazine.
For more information on their SS2020 collection please get in touch by e-mail at info@rhubarbrepublik.com