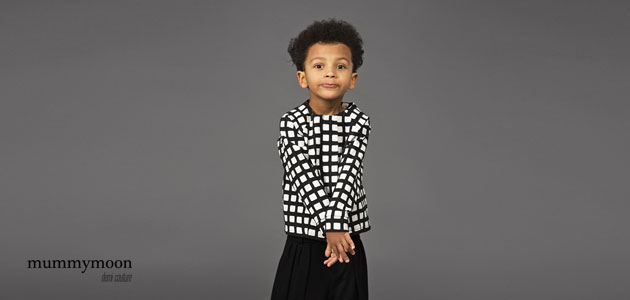 "I want something unique" – it is the concern often raised by mothers. The times, when women where looking for comfortable and fashionable or cute jersey clothes for their children are over. "We are talking about new wave – so called "demi couture" – something between ready to wear and haute couture, something unique that is made with great craftmanship instead of dispensable fashion", says Lithuanian designer Ieva Juodelyte, presenting Mumymoon as the first demi couture brand for kids in Lithuania.
We are experiencing a new trend from our customers' expectations. This new demand in kids fashion is very interesting, since it was raised only in women fashion. Mothers more often tend to choose less decorative garments, but with a "designer's touch". They are ready to spend more, however, they seek for a unique dress. We create clothes for the new generation, which prefers subtle and valuable things rather than changing their wardrobe each time famous fashion label releases its new collection worldwide.
"I have always loved gray. I want to convey children and women with three things I like in my brand – maximum quality, minimalistic design and luxury at the same time".
Being similar to other brands, I realized that I should create something unique for kids. So, after long wandering around we had a contact with Luxury & Fashion Brand consultant Marishka Ziurina. She verified that we have accordance to supreme class. Owing to this step we are demi couture brand at this collection.
Our collections has a clean minimalistic style which makes our label even more prominent. It's very difficult to connect luxury with minimalism. Fortunately, we've succeeded."
This autumn / winter 2016 collection is dedicated to a modern, intelligent mother, who is not only a metropolitan consumer. She is the one, with volcano inside. And that volcano can accommodate from creativity to a city witch power. She hugs the trees and counts the clouds. She keeps so much deeply inside herself that a simple eye cannot catch it . As well as this collection. "You" – it is about you. It's about your adventures, desire and games. Like all Mummymoon collections,  this one is designed for special children. Who are not afraid of challenges and open to the world.
The collection consist of about 47 products. However, it is based on dresses and everyone's favorite – Japan jacket. Only this time it's not just the jacket, but also coats and dresses.
Fabrics – wool, mohair, cotton and all that confirms affordable luxury.
The brand is encoding outstanding quality and timeless style. Our Demi Couture offer features solely handcrafted garments both for distinctive everyday wear with a touch of minimalism, and one-of-a-kind apparel of a more striking design for special occasions.
Mummymoon clothes are dedicated to children from 2 till 14 years old.
For more information please contact us by e-mail at info@rhubarbrepublik.com