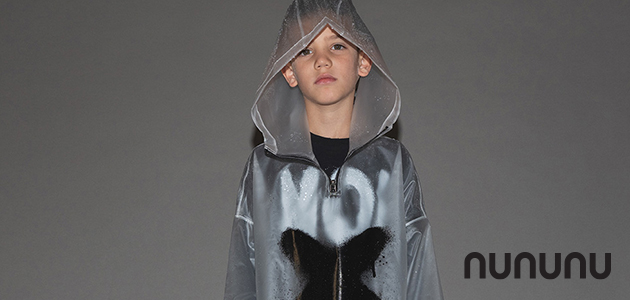 NUNUNU just launched their FW 2020 collection. New elements, new materials, new cuts and prints give this winter that extra special twist.
This winter has taken the nununu designers out to the streets, getting their inspiration from graffiti, typography, signal signs and even shots from surveillance street cameras. Many of the prints are spray paint themed giving them that extra street vibe, the smile print got "nununu'ed" and lost his grin, the signature star looks like it just fell from the skies and even Shay Id Alony, their in-house master artist got his own signature print.
Typography wise, their "Control Freak" is very much here, add to that "Limited Edition" print which expresses how we all feel about this collection and even more so about those who will wear it come Winter 2020.

THE COLLECTION'S DNA in a NUTSHELL:
NUNUNU's FW20 mainly introduces new material options in the collection – including different French Terry's, fine ribbed cotton, improved woven material and all new poly mix which is a first for us to use and made extremely cool tracksuits. Shay Id Alony's print aka, "Shay's print" is really part of a huge painting he created on the wall of nununu's Paris showroom just last year… It was so powerful that they decided to turn it into a new print. Complementing all of these, are great color options like the new black and white stripes, the beautiful hot pink as well as the continuing lava yellow and deep deep blue which have spiced up the collections and it's looks.
OUTERWEAR:
We are excited to introduce the new outerwear collection debuting new warmth levels, material options and styles. As nununu continues with this popular range, they are introducing new material choices like the ones used for the "milky rain jacket and cape" – two perfect styles made especially for rainy days, or the "velvety down jacket" made from, yes, a soft velvety material that gives any coat a monarch flare. A few styles were made from a special combination of coated Twill which gives them a unique mix of a soft and pretty yet strong and sturdy mix perfect for the winter freeze. Of course nununu have a variety of nylon styles so make sure to check out the "shiny smile down jacket" and their new favorite the "fancy star down coat" which is sure to be a staple piece.
PLEASE NOTE: All outerwear has the highest repellent finish and indications for different temperature levels.
HOLIDAY COLLECTION:
Oh, how we love getting our festive on and when talented friends like Tutu Du Monde join the fun, we go out of our way to create the perfect holiday stars! As the brands head into their second collaboration, we're excited to offer their hybrid version of street meets romance. 3 dresses, 2 skirts, 1 fab cape and cardi, an awesome skull headband and sequenced leg warmers bring out the best of two completely different worlds and make for, yet another beautifully made match.

DROPS:
BACK TO SCHOOL: June 4th, 2020
MAIN DROP: August 13th, 2020
HOLIDAY: October 1st, 2020
PREORDER DEADLINE: End of day, March 26th, 2020

For wholesale information please get in touch by e-mail: info@rhubarbrepublik.com