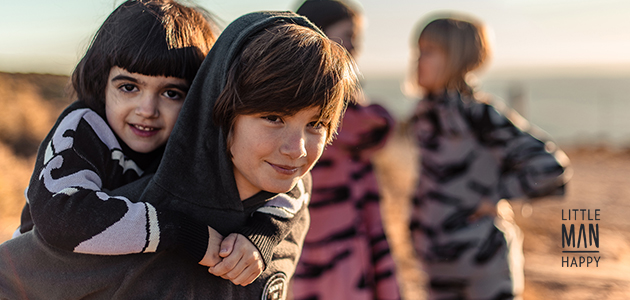 Little Man Happy just launched their new AW2020 collection; I'm Future.
We are the ones who look to the future, write the next chapters and decide the outcome of history. There is love for making us grow and paving the ground, but not each decision led the right way. So here we are, survival artists, space knights and creative cowboys with thoughts bold and ideas game changing.
In this and every other world our power is extraordinary, supernatural and multidimensional. We know the challenge, but we are insane enough to take it up against all chances. We are the heroes of the future, the real decision makers.
The line reflects on a cool but sensible and playful way what tasks the next generation needs to solve. The topic ranges from today's environment to absurd tomorrow's impressions to give space to draw individual conclusions. Meant to stimulate, not to instruct.
Little Man Happy's Autumn Winter 020 collection focuses on super soft organic materials that are designed to create a great mix of everyday styles. Combining this with special materials of the exclusive line guarantees a kick of high fashion attitude. A subsequent invitation to mix and match materials and styles to create layers from relaxed to playful. Along to this the prints and designs glow through the topic-dominated collection and are of course true originals to the brand.
Versatility and quality are at the heart of each piece, values that manifest themselves in kid's wear
that is both soft and easy to wear, but also timeless and durable enough to withstand generations of play.
The color palette features a few faded neutrals inspired by our nature, such as muddy brown, lavender dust, night sky and copper. The muted color scheme is amplified by colors like cyber yellow, ginger spice and cotton candy. Using shiny, metallic resources demonstrate how we can handle the existing materials in the future. Recycling and reuse is a big topic. Little Man Happy supports the reduction of the ecological footprint wherever possible. Besides of our organic cottons we work with recycled materials, treatment of process water and compostable foil bags.
For preorders please get in touch by e-mail at info@rhubarbrepublik.com
Preorder deadline is March 6th. 2020.