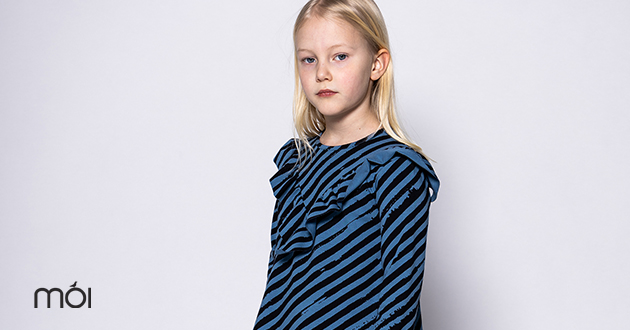 Surrounded by the dark winters in the north, mói embraces its origin by casting a brighter view on the strains of the season. Nordic Frames, the new 2020 Autumn Winter collection enters bold details away from the brands origin with new prints and colors. The new prints and styles include frames, strings, cubes and greyish bird camouflage. Black is the main color throughout the collection yet still it is being spiced up with Blue, Grey, Olive Green and Blush.

Establish in 2012, Mói is an urban children's fashion brand originating from Iceland. Mói's primary focus is creating stylish and funky clothes for children with a dash of attitude to inspire sustainable living, being free and of full of desire to make the earth a better place. This is done through certified production methods, which are responsible, ethical and organic.

The urban designs feature comfortable garments that can be used by both genders between 0–12 years of age. The classic designs blended with in-style basics are easy to mix and match and wear with comfort on all occasions whether being über cool, playing or partying.

Preorder Deadline: March 31st 2020.
Delivery Period: End of July – mid August 2020.
Launch Date: Estimated August 15th 2020.
For more information, please contact us by e-mail at info@rhubarbrepublik.com