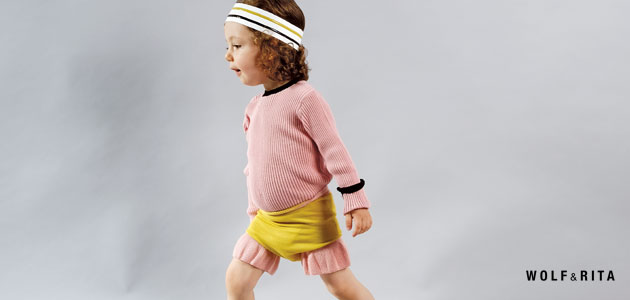 Proudly presenting the new Wolf&Rita SS 2019 collection called Playing Nostalgia.
We wanted to celebrate and honour the simple living and candid eyes we had as kids. Celebrate playing, hanging out with friends, and enjoying the summer breeze blowing on our kitchens' flowers. Honouring the capacity kids have of given a wall partially destroyed by war, using it to paint a small rowing boat.
To better convey those ideas we shot our campaign in a school gymnasium, bringing us all right back to childhood when looking at the images.
The name of our patterns recall children's games everyone is familiar with.
Some details about some styles in collection:
Small scarfs can be pinned to some of the styles (dress Mafalda, dress Teresa, skirt Lurdes, jacket Amelia, top Luana Black, leggings Rafaela and hat Carolina) for different looks.
In dress Paula (Brown Blue and Coral Yellow), the collar can be taken off and so does the differently coloured bottom of the dress, turning it into a shorter tunic.
Shoulder scarf Tulipa, like collars Marta, are an accessory to be used over any of our styles and are reversible.
Fabric/pattern Boats and Roads is embroided using a special technique which made some styles a little more expensive. The little boat in the embroidery is made out of a photograph taken in Lebanon, in a wall of a school destroyed in war, and later painted by children.
Knitted products (dress Andreia, long cardigan Camila, jumper Sara and others) are made using extra-fine combed cotton. Combed cotton is softer than regular cotton because it doesn't have any impurities or short protruding threads, and it is stronger than regular cotton because the combing process removes short fibres, which are prone to breakage. These benefits plus the additional work required during the manufacturing process makes combed cotton more expensive and luxurious than regular cotton.
The swimwear has UV protection factor 50+.
Jersey products are 100% organic cotton.