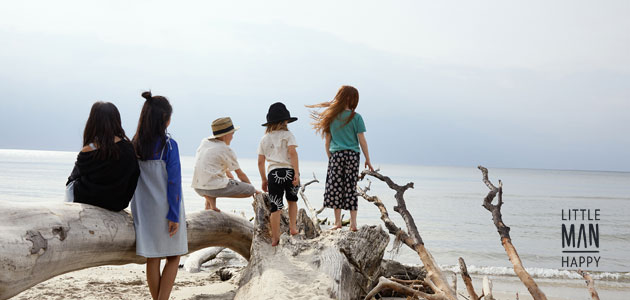 This place is a miracle, a pearl… one in a million, untouched and beautiful.
We are very excited to show you the new Spring Summer 2019 collection LONELY ISLAND PARADISE from Little Man Happy. It became a tribute to little wanderers exploring a mysterious island they've heard about.
Little Man Happy produces kids fashion since 2015 and they are very proud to say all their production takes place within the European Union, in Portugal, Greece and Poland. They focus on sustainability and continuously extend their certified materials and organic cottons. This season they are working with new materials and techniques. You can find denim and knit styles as well as hand dyed pieces, again beautiful placement prints and embroideries at places, you might not expect.
Their size range goes from 0-11 years covering as many unisex styles as possible. You will find shirts, tanks, dresses, shorts, sweater, jackets as well as rompers and playsuits or sunglasses.
For more information on the new collection and on how to become a Little Man Happy retailer, send us an e-mail to info@rhubarbrepublik.com