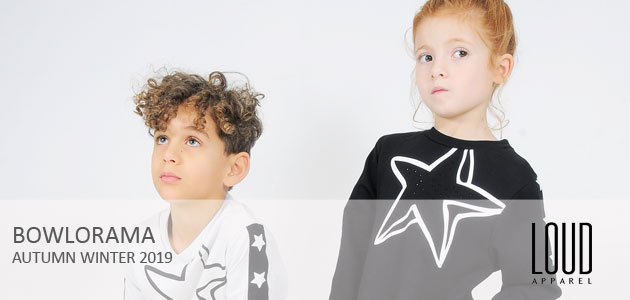 America in the 70s and early 80s: nostalgia for those progressive times before the internet, when countless trends from chart-topping pop music to Space Invaders were world-wide leading cultural forces and the trend of the bowling league soared across the Country.
BOWLARAMA, the new AW19.20 collection presented by LOUD Apparel, pays homage to the great popularity of this sport, the billion-dollar industry and the "golden age of bowling" in America.
Bold graphics, bowling shoes prints, random graphics placements of rolling balls and pins, fun and quirky elements of the game are at the core of the collection.
This season's line up follows the iconic characteristic of LOUD; the monochrome black and white colours signature of the brand and prevalent combined with an unusual shift into colours this season; mustard yellow, green storm, racing red are all part of the AW19.20 BOWLARAMA Collection for an unexpectedly fresh result.
The collection offers a wide range of accessories pieces in organic fabrics designed for girls, unisex, and babies: comfortable French Terry for sweaters and tracksuit bottoms, soft cotton jersey, washed denim for culottes trousers, dresses with cool and playful embroidery details.
A mini capsule of womenswear is present again for the 2nd season to twin with the girls' styles and create the "Mini Me" look.
Coming to its 2nd season is also the new sister brand "Piccolo" by LOUD Apparel. The newborn layette line is an array of basic clothing that ranges from 1 month to 18months and for this season with new styles extended to boys and girls 2 to 12. Soft and organic fabrics are used for onesies, t-shirts, foot leggings, beanies hat and bibs all translated in the brand's conceptual vision to evoke its uniqueness for those audacious, super stylish amongst you.
For more information on the Loud Apparel AW 2019 collection please get in touch by e-mail at info@rhubarbrepublik.com