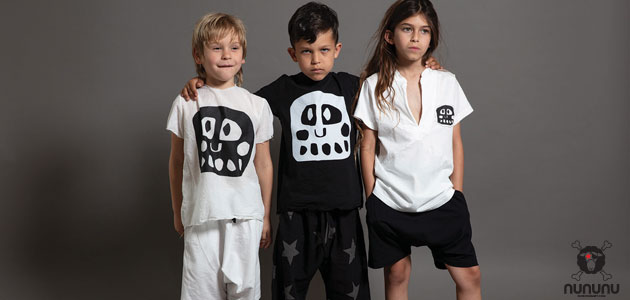 NUNUNU just launched their SS2020 collection, 101 DESIGN.
So, you know how NUNUNU has always been all about the basics? With all our raw edges, simplified graphic prints and exploration of raw forms and shapes? Well, this season's theme takes it up a notch and is literally as basic as it gets in terms of who we are and what we do – clothes! So, it only made sense to go back to point A. Sewing patterns, measuring bands, thread & needles, scissors and beginner's tailor Kits are where it all really starts, and they all bring to life what we're all about.
ROWDY MASKS IN THE HOUSE!
It wouldn't be a full NUNUNU collection without some skulls or masks coming to you by Iris, Tali and artist Shay Id Alony. As we move into our fifth season together, these two continue to thrive and deepen this collaboration with the very talented Shay! For SS20, the trio came up with yet another new print of masks, introducing – the rowdy masks! Created with lots of humor and a wink, this newcomer is available in an all-over or stand-alone print.
COLORS, FABRIC and TEXTURES:
As we head into the season, our new collection is compiled of new warm colors suitable for the summer days. Lava Yellow and Lava Red take a lead in unique tones that are so fit for their names. Military Olive appears every now and then and adds a nice twist to the mix. Similar to past seasons, we continue our use of dyed hues or as we call them vintage greys and reds. They all add a touch of "worn-out" and style to the overall collection which consists of black, greys, white and powder pink. A variety of top-quality fabrics like cashmere blend knits, rich french terry, light drill, nylon and velvet enrich the collection alongside our super soft cottons, denims and knits.
RESORT:
Our resort collection is bigger, better and brighter! Kidding, it's all black. Our swimwear line is developing rapidly, and we have tons of new styles available this season. The beachwear range is perfect for vacations or a lazy day at the beach, made up from light-as-a-feather voile and soft cotton materials.
Due to popular demand! We added new sliders and flip flops styles as well as a perfect see through beach tote – make sure to check it out! You will never have to search for your sunscreen again. Guaranteed.
ACCESSORIES:
Make sure to check out the new sneakers and the very cool light sock sneakers! Pair them up with the see through backpacks available in two sizes and you are good for traveling anywher3.
DROPS:
RESORT: Friday, Nov.1st, 2019
MAIN DROP: Thursday, January 23rd , 2019
DEADLINE: End of day, Monday September 2nd, 2019
For more details please get in touch by e-mail at info@rhubarbrepublik.com